Added:
09/13/17
/
Author:
Team
/
Comments:
0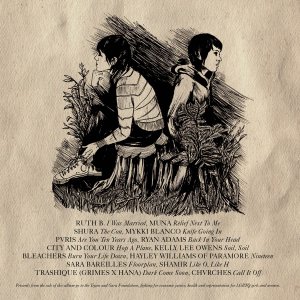 It's official! Hayley Williams sang a song for the upcoming The Con X: Cover album from Tegan and Sara.
For this very special release for the 10th anniversary of The Con album, Hayley recorded her version of Nineteen, produced by Taylor York.
"We encouraged each artist to approach the song they were covering in any fashion they saw fit."
The preorder for The Con X: Covers will begin on September 19 via teganandsara.com. The CD and digital/streaming album will be released on October 20. Vinyl will be released on December 22.
The proceeds will go to the Tegan and Sara Foundation, which raises money for self-identified women and girls in the LGBTQ community.
"*i was 19* the first time i bawled my brains out to The Con. so honored to be a part of this" – Hayley
CD and Vinyl Tracklisting:
1. Ruth B. – I Was Married
2. MUNA – Relief Next to Me
3. Shura – The Con
4. Mykki Blanco – Knife Going In
5. PVRIS – Are You Ten Years Ago
6. Ryan Adams – Back in Your Head
7. City and Colour – Hop a Plane
8. Kelly Lee Owens – Soil, Soil
9. Bleachers – Burn Your Life Down
10. Hayley Williams of Paramore – Nineteen
11. Sara Bareilles – Floorplan
12. Shamir – Like O, Like H
13. Trashique (GRIMES X HANA) – Dark Come Soon
14. CHVRCHES – Call it Off

Digital Bonus Tracks:

15. Cyndi Lauper – Back in Your Head (Bonus Track)
16. Bleached – One Second (Bonus Track)
17. Vivek Shraya – I Take All the Blame (Bonus Track)
18. Tegan and Sara – Miami Still (Bonus Track Demo)